Libby Jones – Family Violence Champion Rodney / Otamatea "It's Not OK – but it Is OK to ask for help" campaign
I was one of 12 local people from the Wellsford, Te Hana, Mangawhai, Kaiwaka, Maungaturoto and Paparoa areas who over 2014 /15 were a public face to promote the messages in our community that family violence is not OK – but it is Ok to ask for help. Our role has been to raise awareness and to encourage people who have experienced, or are experiencing family violence to reach out and ask for help.
Family Violence is a subject that touches us all, whether we have been affected directly or because we know the damage and hurt it causes to others, or are keen to be part of a change in our society and our communities where family violence is NOT ok.
Why did I agree to be part of this campaign?
Initially I agreed because someone else, I don't know who, had nominated me and believed that I would be a useful champion and could be part of making a change. That made me feel valued and excited that I could be part of creating the solution. Like you I had seen and heard the ads over the last few years promoting the "It's not ok" message around family violence. But I hadn't stopped to think about how I could be part of passing on that message to a wider audience. Once I got to work with the great team of champions and facilitators including Quentin, Tahe and Mandi it became clear we were in a special group that I have felt very privileged to be a part of, and that together we are making a difference.
I have worked in health and social services for many years and I know the suffering that family violence causes in families, particularly for children, and I was keen to take the opportunity to make a difference and create healthier communities. I am inspired by the knowledge that attitudes in Aotearoa New Zealand are changing and so it felt like a good time to be involved.
We tell people "It Is Ok to Ask For Help" and I know that this local campaign has helped people know who to call and where to go to get help. Help is available for all, which includes anyone being affected by family violence – victims as well as users of violence.
There is a long list of depressing statistics on family violence in New Zealand. It shocks me to know that every year around 29 people are killed by a member of their family, that includes on average 14 women, 7 men and 8 children.
And every year Police record around 95,000 family violence investigations. We know that not all incidents are reported so that is a staggering amount.
Family violence includes not only physical assault but also emotional and mental abuse, threatening, isolating and controlling a family member.
As part of the campaign we each chose a key message to promote. Mine was 'Healthy Communities are free from Family Violence.' I don't believe we can just look the other way and ignore the suffering that is being caused. Children are particularly vulnerable as they rely on adults to keep them safe.
As our official campaign has finished I am going to nominate you to be part of promoting the message that Family Violence is NOT ok but it IS ok to ask for help. I believe that you can be part of making a change in our communities. I hope that it makes you feel valued and excited that someone else has said that your input is valuable and that it will make a difference.
So what can you do as individuals and as a community to make a difference? I encourage you to also speak out to protect children and others being abused and spread the message that help is available.
You don't have to be a trained professional to offer help. If you are worried about someone else listen to your intuition – don't be afraid to ask if they are OK. Of course it is important not to put others or your own safety at risk, don't judge or blame and don't make excuses for violence.
For anyone who you think, or know is the victim of family violence it is useful to:
listen
give support
take the violence seriously
don't tell them what to do
let them make their own decisions however long it takes
keep in touch, call to say hi
find out more about family violence
offer a safe place to go, or help them make a safety plan
BUT call 111 if someone is in danger.
Say: Are you OK? Is someone hurting you? Are you scared to go home? Is there anything I can do? Do you feel safe at home? It's not your fault someone is hurting you. When you're ready, I'm here. It's not OK that you are being hurt.
What if it is someone you know who is using violence:
challenge the behaviour not the person.
find out more about family violence
let them know violence is not OK and help is available
find out what help is available
offer to go with them to get help.
Say: Can I help? Do you need to talk? It's not OK your kids are scared of you. I don't like the way you talk to your partner. There's got to be a better way, mate.
Families often try to hide the violence or accept it as normal. What you say and do could help them to admit what's happening and get help.
Family violence is everybody's business – together we can make a change by speaking up and encouraging people we know to get the help they need.
More information –
You can find more information and order free resources at www.areyouok.org.nz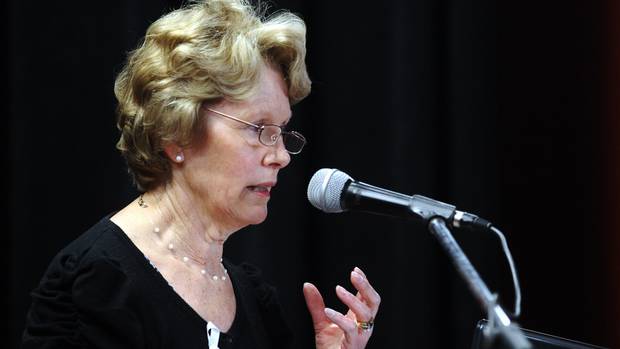 Lesley Elliott told the "It's Not Okay" campaign meeting of signs she had missed before her daughter, Sophie, was stabbed 218 times in Dunedin seven years ago.
Mrs Elliott set up the Sophie Elliott Foundation to raise awareness among young people of partner abuse. She was made a member of the NZ Order of Merit in this year's Queen's Birthday honours for her work.
Mrs Elliott was at Maungaturoto with Bill O'Brien, a former police officer and author, who manages her speaking engagements at around 50 events on behalf of the foundation.
Libby Jones, of Paparoa, who advocates for healthy communities in Northland and is a local It's Not Okay champion, said the meeting at Otamatea High School was aimed at teenagers, parents and other community members.
"While Lesley can't change what happened to her daughter, Sophie, and their family, she is using her personal tragedy and courage to help change the future so we all know what to look out for to help keep our young people safe in relationships," Ms Jones said.
The next morning Mrs Elliott and Mr O'Brien attended a workshop for professionals from health, education, social services and police to discuss what else could be done in the local area to prevent family violence. Mrs Elliott and Mr O'Brien together wrote the book Loves Me Not. A programme for senior school students run by the police, based on the book, also raises awareness.
Ms Jones said the awareness programme was to be run in local high schools "which we are delighted about".
For more about the Sophie Elliott Foundation see its website: www.sophieelliottfoundation.co.nz
Advice from Lesley Elliott to help young people avoid violent relationships:
•Do not bring people into your life who weigh you down.
•If the relationship doesn't make you feel good, or doesn't feel right, then trust your instincts and act on them.
•Be yourself, you don't have to change yourself for another person.
•Look for the signs – threats, lack of empathy, unhealthy communication, physical abuse, power and control, erratic behaviour.
•It is okay to ask for help.
•Report assaults to the police – you may save your life or someone else's